De checkout, netjes en simpel zonder teveel afleiding
De checkout is het belangrijkste onderdeel van een e-commerce bedrijf. Alles staat of valt met een verkoop die wel of niet doorgaat. In deze post laten we een voorbeeld zien van een nette checkout pagina die ook aan de regelgeving voldoet.
De auteur
Hans Blaauw, de auteur, heeft zich tussen 2013 en 2022 zeer intensief beziggehouden met het ontwikkelen en managen van de NL en BE webwinkels van Creative Cables. Creative Cables is een Italiaans merk met 22 winkels.
De eerste stap van het checkout proces is vaak een overzicht van wat er in het winkelmandje staat.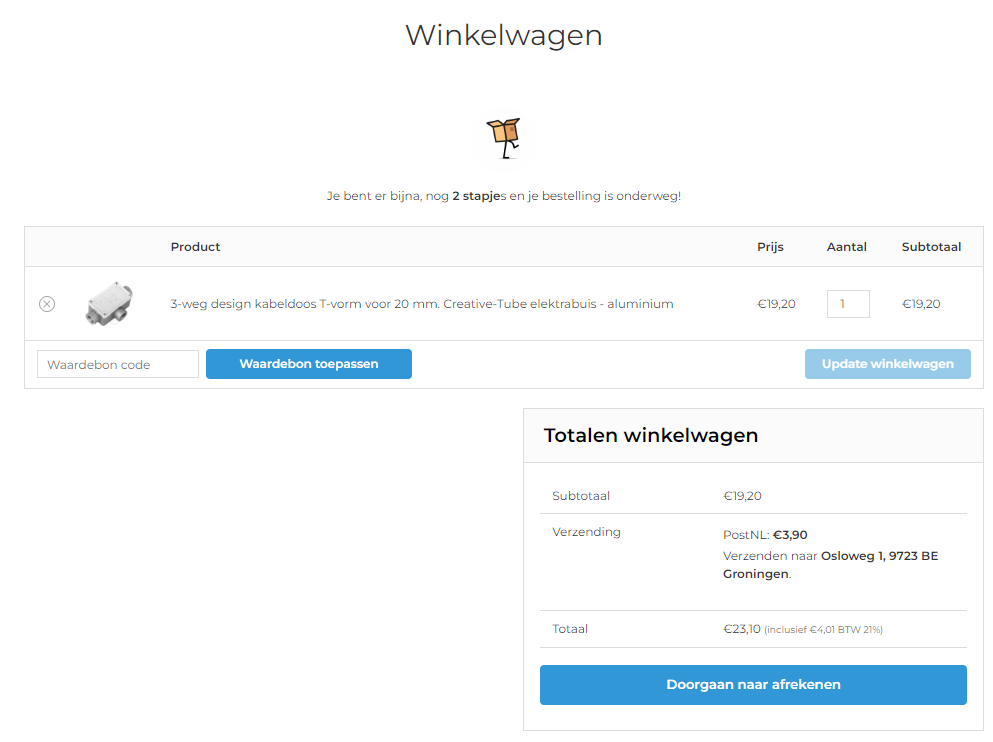 Het is belangrijk dat allesgoed en overzichtelijk op de pagina staat en er geen onduidelijkheid is over:
de prijs van de geselecteerde producten;
verzendkosten;
waar je in het proces zit;
de prijs incl. BTW;
welke producten de klant heeft geselecteerd.
Daarnaast kun je op deze pagina het beste de navigatie uitzetten. Elke verleiding om te klikken is er 1 teveel. Eigenlijk willen we maar twee acties op deze pagina:
waardebon toepassen;
doorgaan naar afrekenen.
De belangrijkste actie is "Doorgaan naar afrekenen".
Daarnaast is het bovenste deel van de pagina ook zeer belangrijk. Je wilt de mogelijke klant op een positieve manier stimuleren en ook duidelijk aangeven waar hij in het aankoopproces zit. Dit alles om het vertrouwen te vergroten.
Uiteindelijk wil je de klant verleiden om af te rekenen. Vergis je niet, een klant zal dit pas doen als hij een goed gevoel heeft bij de webshop. Staat er bijvoorbeeld geen adres op de website of een KvK nummer? Vergeet het dan maar, klanten willen je graag kunnen traceren.
De afreken pagina moet net zoals het winkelmandje overzichtelijke en duidelijk zijn. Daarnaast moet je volgens de wet verduidelijken dat er een betaalverplichting aan vast zit. Hieronder zie je een voorbeeldje waar ook weer de navigatie is uitgeschakeld.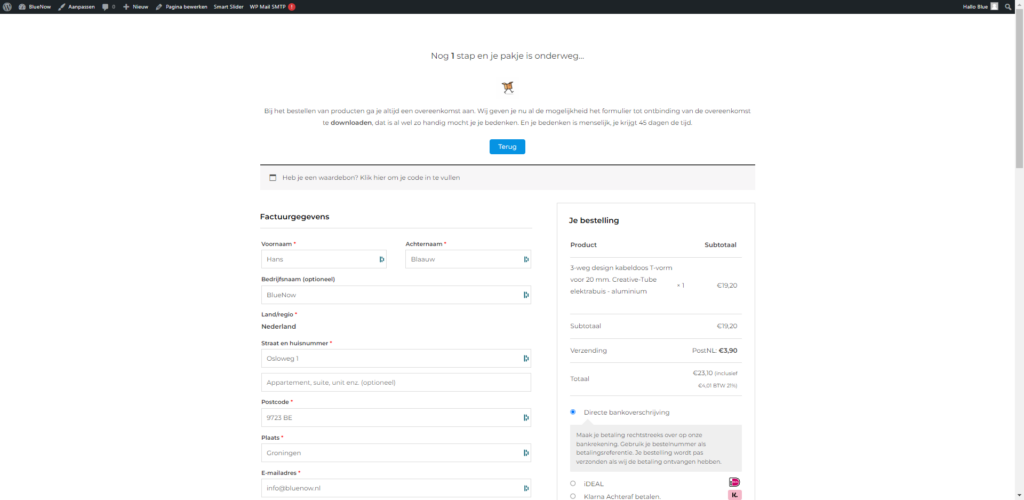 Deze pagina is super overzichtelijk en geeft ook duidelijk aan waar de klant in het proces zit. Daarnaast staat de navigatie weer uit en kan de klant alleen maar op terug klikken.
Op deze pagina vragen we ook bewust geen telefoonnummer, dit kan de conversie verlagen.
In het gedeelte je bestelling staat heel overzichtelijk waar de bestelling over gaat.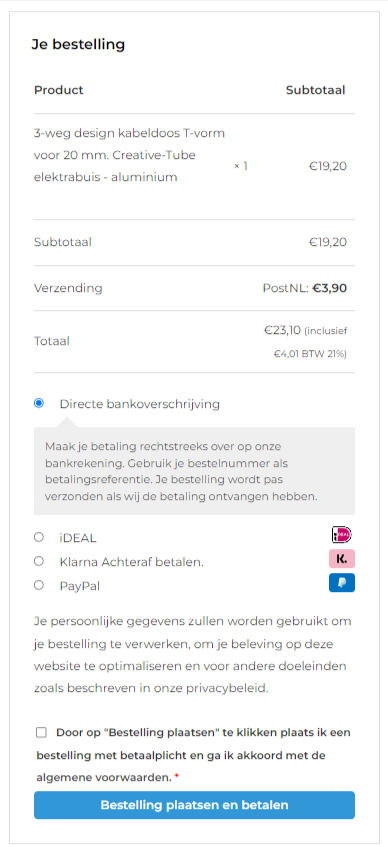 Daarnaast staan de betaalmethoden heel duidelijk onder elkaar. Zoals jij als e-commerce ondernemer al lang weet moet je klanten verplicht een methode aanbieden waarmee ze niet alles verplicht vooraf moeten betalen. Nog niet geregeld? 
Verder geeft dit overzicht duidelijk aan waarvoor gegevens worden gebruikt en dat er betaald dient te worden. Het vermelden van bestellen met betaalplicht is al een behoorlijke tijd verplichte kost.
Twee extra tips zijn:
geef hier al duidelijk aan dat de bedenktijd is;
laat klanten alvast een formulier downloaden voor het ontbinden van de overeenkomst.
Als klanten nu klikken op "Bestelling plaatsen" dan start het betaalproces.
Doe jij dit ook via Mollie?