Staffelprijzen, goed voor de conversie en de gemiddelde orderwaarde
Toen ik zelf nog fulltime een webshop draaiden, keek ik vaak naar de gemiddelde orderwaarde. Vanuit mij filosofie moet deze hoog genoeg zijn om alle kosten te rechtvaardigen. Heel veel kleine orders verzenden is leuk maar op een gegeven moment loop je vast en ben je alleen nog maar een verzendhuis en maak je te weinig winst. Als je bedenkt dat 80% van de webshops weinig of geen winst maakt en 4% van van de webshops zorgt voor 85% van de omzet dan weet je wel hoe de vlag erbij hangt als je niet oplet.
Plugins
Hoewel wij zelf de plugins testen hebben wij op dit moment geen tijd om ze compleet op veiligheid te testen. We gaan zorgvuldig te werk bij het adviseren maar we richten ons met name op innovatieve mogelijkheden. Wij adviseren zelf altijd met een netwerk "sniffer" te kijken of er vreemde dingen worden gedaan op de achtegrond.
Een oplossing om de conversie en conversiewaarde te verhogen is staffelprijzen. Met die staffelprijzen geef je bij een bepaald aantal korting zodat de afnemer een voordeel krijgt. Dat voordeel zal hem wellicht verleiden iets meer te kopen waardoor je orderwaarde stijgt.
je kunt dit op diverse manieren implementeren maar een plugin installeren is de eenvoudigste manier. Ik heb zelf lang gezocht naar een gratis versie die voldoende mogelijkheden heeft en de oplossing is de Tiered Pricing Table for WooCommerce. Hij is net weer geupdate en de gratis versie voldoet prima. Hieronder zie je een screenshot van het eindresultaat na installatie.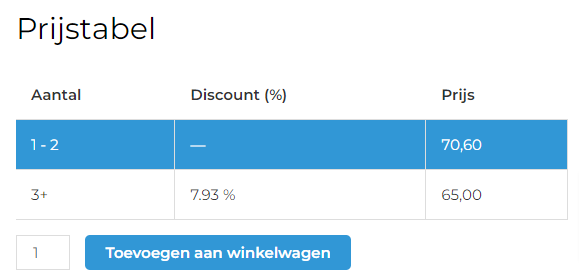 Als je het aantal aanpast in het bovenstaande aantal veld dan zal de blauwe balk verspringen naar de juiste prijs en de klant aangeven wat de prijs zal worden bij dat aantal. Simpel maar effectief. Het design kun je met deze gratis versie behoorlijk aanpassen.
De plugin heeft behoorlijk wat instellingen waarmee je zowel kleuren als design nog wat kunt aanpassen.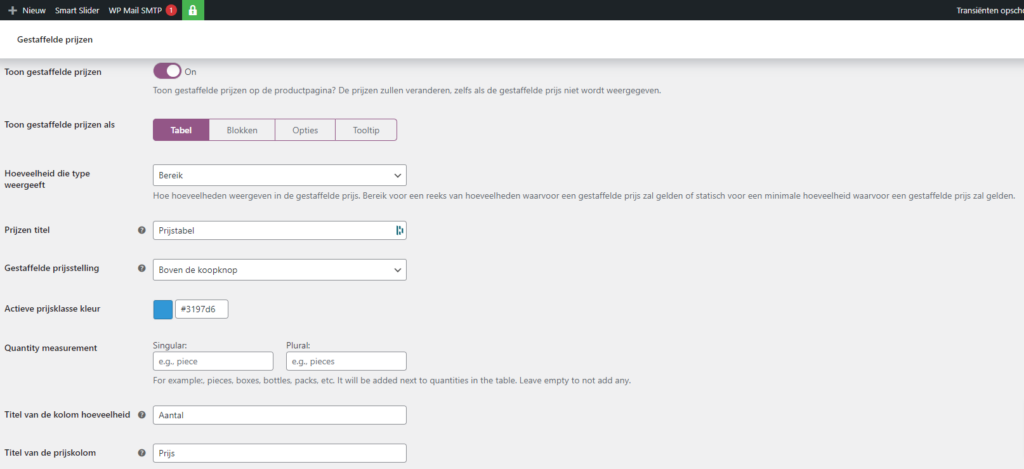 Dit werkt goed samen met de meeste thema's.
Naast de configuratie mogelijkheden heeft de plugin ook wat integraties met andere plugins.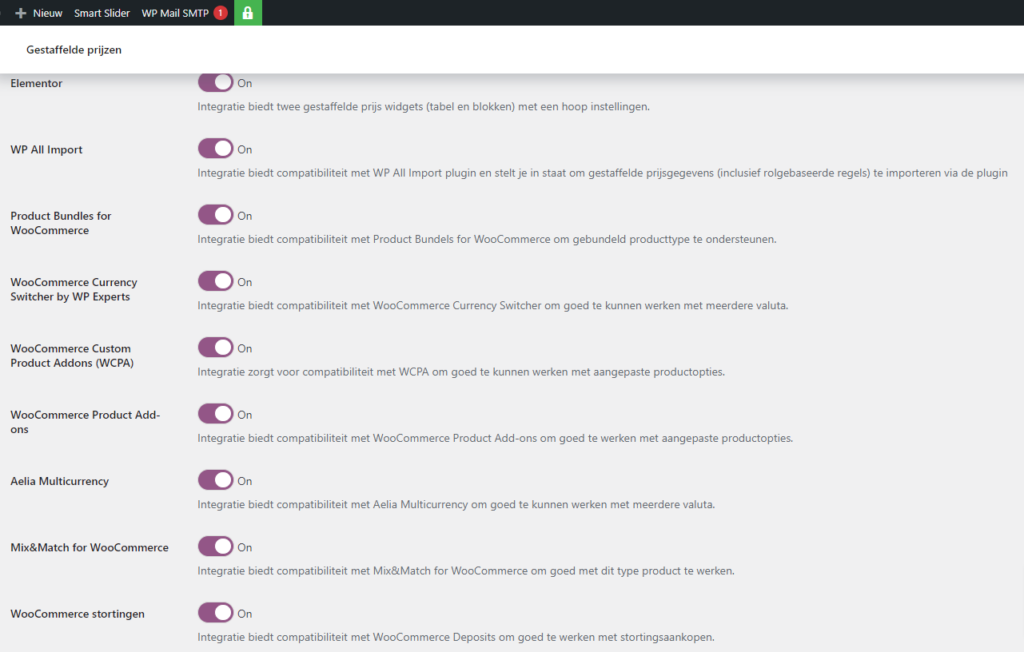 Geen idee hoe je deze plugin moet configureren? Als je hulp nodig hebt dan kun je het laten weten via contact.