Op het moment dat je met Bol.com en WooCommerce gaat werken heb je al snel de behoefte om de volgende zaken te willen automatiseren:
voorraad;
product info;
orders;
verzending.
Dit lukt niet met de standaard tools die in WooCommerce zitten. Daar heb je meestal een plugin voor nodig.
Disclaimer
Voor het doorverwijzen naar de site van een plugin verdienen wij soms een kleine commissie. Wij schrijven in bijna alle gevallen over plugins omdat we deze zelf succesvol hebben ingezet of gebruikt. Je zult hier nooit prachtige verhalen vinden van bijvoorbeeld dropshipping experts met ongeloofwaardige verhalen over miljoenen verdienen. Je krijgt hier de "real deal". THINGS IO is ervaringsdeskundige en probeert je zo goed mogelijk te helpen.
Toen ik deze naam voor het eerste hoorde dacht ik," grappig". Woosa is een soort kreet die me een beetje deed denken aan een oude batman serie waar ze dan van die kreten laten zien: "Bang, swoosh, woosa!" Maar dat terzijde.
Voordat wij gebruik gingen maken van de Woosa plugin voor Bol.com heb ik veel filmpjes met Jessica voorbij zien komen en wat zij daar vertelde beviel me goed. Jessica is de CEO van het bedrijf.
Woosa bouwt met name plugins voor verkoopplatformen zodat je eenvoudig producten, orders en bestellingen kunt synchroniseren met je website winkel. Iedereen die serieus verkoopt op een platform weet dat een dergelijke plugin echt noodzakelijk is.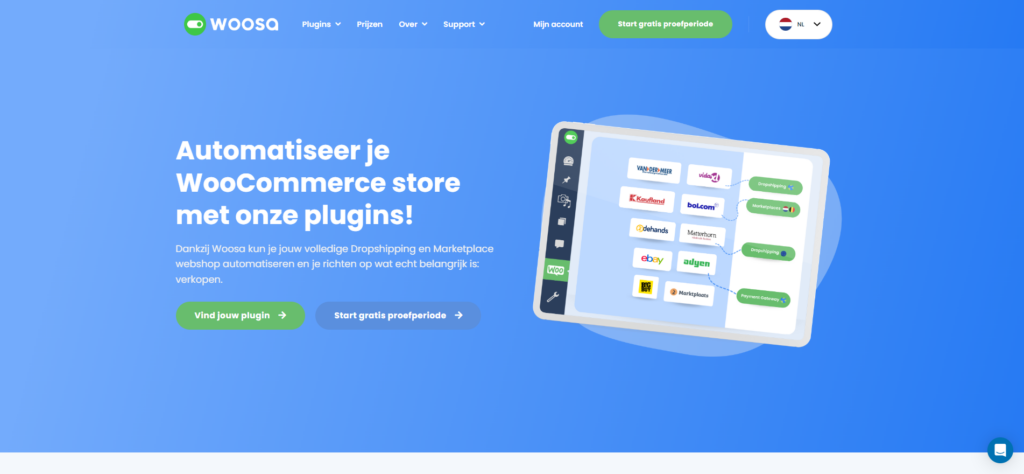 De Woosa plugin voor bol.com heeft een aantal mogelijkheden die je echt nodig hebt als serieuze e-commerce ondernemer. De mogelijkheden zijn:
eenvoudig bol.com producten publiceren
meerder accounts koppelen
voorraad synchroniseren
automatisch prijzen verhogen voor op bol.com
orders verwerken
Eenvoudig bol.com publiceren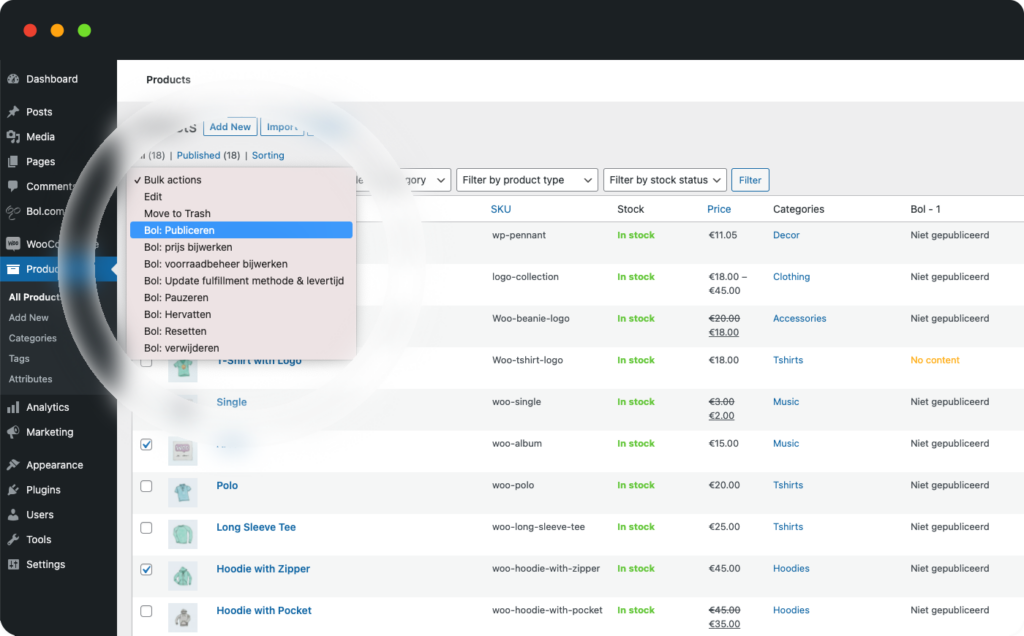 Kies welke producten je wilt publiceren van WooCommerce naar Bol.com.

Update de product informatie, zoals prijs en voorraad van WooCommerce naar Bol.com.

Pas de Bol.com settings aan binnen het WooCommerce product of in de algemene WooCommerce plugin instellingen.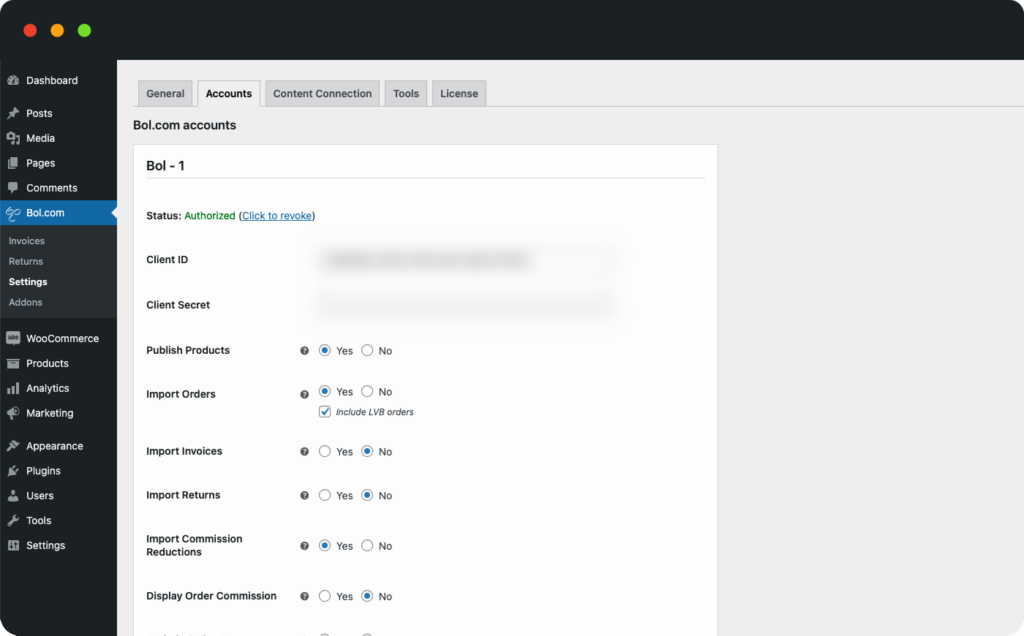 Haal de EAN code uit een Custom Field, Attribuut of de SKU binnen WooCommerce.
Gebruik de standaard WooCommerce prijs of verhoog met een vast bedrag of percentage.
Configureer de vereiste bol.com voorkeuren in de algemene instellingen van de plugin, of het individuele WooCommerce product.
Je kunt meerdere bol.com accounts koppelen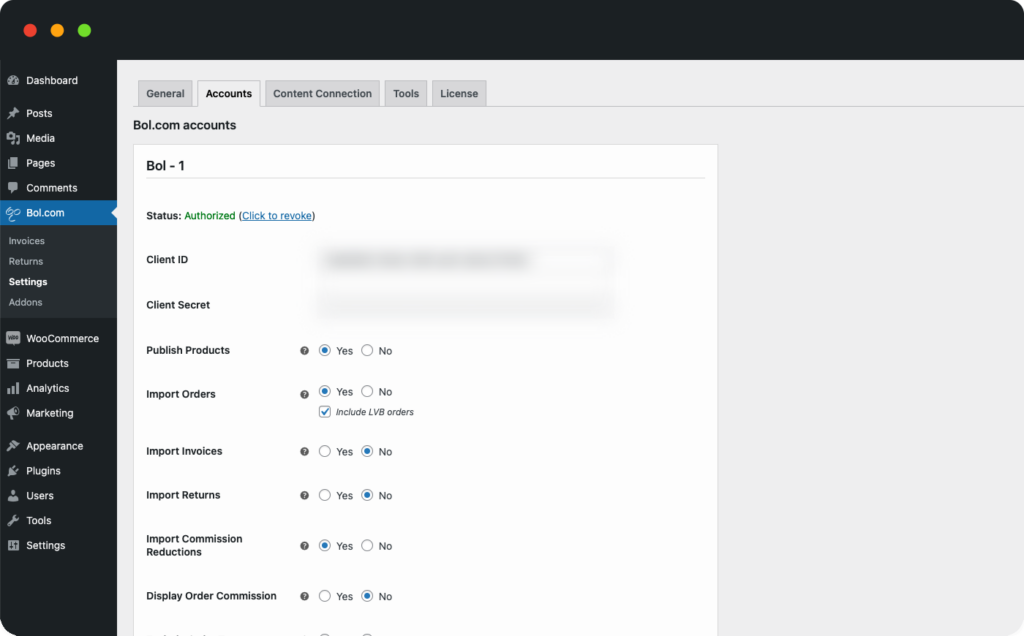 Dit is natuurlijk superhandig want soms heb je wellicht meerdere bol.com shops die je vanuit dezelfde WooCommerce installatie wilt bedienen.
Koppel tot 5 bol.com accounts in één WooCommerce webshop.
Stel verschillende levertijden en verzendkosten in per bol.com account. Bijvoorbeeld wanneer je Belgische account andere verzendkosten heeft dan je Nederlandse account.
Bepaal welk product je wil verkopen via welke bol.com accounts.
Synchroniseer de producten die je wilt verkopen met bol.com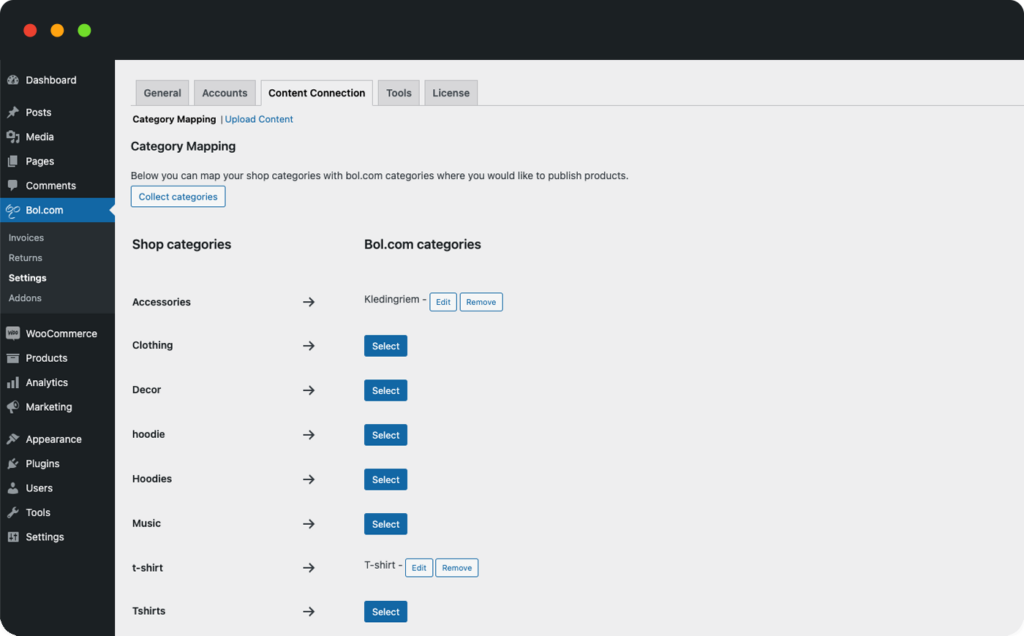 Dit is denk ik wel de belangrijkste feature omdat het beheren van je producten in bol.com best wel een klus is.
Publiceer nieuwe EAN-codes inclusief hun inhoud

Alle in WooCommerce beschikbare productgegevens worden ingediend bij bol.com.

Productgegevens die ontbreken in WooCommerce kunnen worden aangevuld via een aparte popup voor dat specifieke product.



De Woosa plugin is een superhandige plugin die mij veel tijd heeft bespaart toen ik producten van bol.com verkocht. Zeker in combinatie met de plugin van Extensiontree om ook met Moneybird te koppelen.
Nog meer features zien van de Woosa plugin?